Awning Installation in Southeast MN & Northern IA
Get the perfect awning for your patio, deck & windows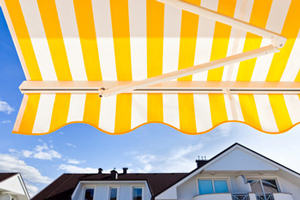 Awnings are a great way to keep your outdoor space dry and comfortable.
Decks and patios are a great way to enjoy the outdoors, but sometimes they just get too hot to be comfortable. An awning allows you to get more use out of your outdoor living space. Here at Home Solutions Midwest, we can install the perfect awning for all your needs.
Whether you want to keep your patio cool, shade your windows, or protect your front door from rain, we have the awning to solve your needs. We carry top-of-the-line products from leading manufacturers. As an experienced home improvement contractor, we always provide the highest level of customer service.
Call us at 1-844-665-0388 or click below to request your free estimate today! We install awnings on homes in Rochester, Northfield, Mason City and throughout Minnesota and Iowa.
Products
Founded in 1981, Sunesta is a pioneer of the awning industry and one of the first companies to manufacture custom retractable awnings. All of Sunesta's products are 100% manufactured in the U.S. and made to order.
Sunesta Retractable Awnings
Sunesta offers custom retractable awnings for decks, patios, and outdoor living areas, as well as window and door awnings.
Up to a 15-year warranty
180 fabric choices
Variety of frame colors
Styles for all budgets
Benefits of Sunesta awnings:
Convenience - Fully or partially extend or retract with the push of a button or turn of a handle.
Full view - Streamlined design without support poles means your view isn't obstructed.
Unique style - Each Sunesta awning is made to the distinct needs and style of each homeowner.
Expanded living space - Sunesta retractable awnings add a customized outdoor room.
Protects furnishings - Prevents the sun's UV rays from damaging furniture, carpet, upholstery, drapes, and flooring.
Saves on utility costs - On warm days, an awning blocks the sun from entering your home and on cold days, the awning can be retracted to allow the sun to help heat your home.
We offer a wide variety of awning options
No matter what reason you have for installing an awning or what type of building you want to match it to, we have the perfect awning to fit your needs.
Fabric awnings
Aluminum awnings
Retractable awnings
Custom awnings
Window awnings
Patio awnings
Deck awnings
Manual or motorized awnings
Contact us for your free awning installation estimate
Our experienced professionals will work with you to find the perfect awning to fit your needs and match your home or business. Contact us today for a free estimate on any awning service! We are your local remodeling contractor, serving Owatonna, Winona, Faribault, Austin, Northfield, Albert Lea, Farmington and surrounding areas.
Looking for a price? Get a no cost, no obligation free estimate.