Steel Siding Installation in Rochester, Northfield, Mason City & Nearby Areas
Upgrade your home with unmatched durability and protection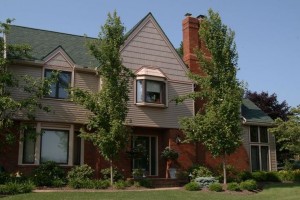 Durability and low-maintenance beauty are just a couple of reasons steel siding is popular.
Home Solutions Midwest installs seamless steel siding made by ABC Seamless. We custom-cut your siding on-site to the exact dimensions of your home. What you get is beautiful siding that gives your home's exterior a sleek, seamless look. Steel siding also offers greater durability and energy efficiency and needs less maintenance.
Our siding products are backed by one of the best warranties in the industry, and we promise the best products, service, and results for your siding project.
If you're thinking about installing new siding on your home, schedule your free on-site consultation today and let one of our knowledgeable specialists show you the full range of siding options we offer. Call 1-844-665-0388 or click below to contact us!
Benefits of installing steel siding
There are many benefits to upgrading your home with seamless steel siding:
Durability: With a 28-gauge solid steel core, our steel siding offers protection that lasts. Steel will hold up against wind, hail, falling branches, and other forms of wear and tear. Steel also offers excellent fire resistance and won't be damaged by insects or rodents.
Longevity: ABC Seamless puts an Entex-Sol finish on their steel siding. This finish is an exclusive product that is thicker than any other type of finish; up to three times thicker! This prevents the siding from peeling, cracking, fading or rusting.
Low maintenance: Steel siding won't fade over time like vinyl siding will, and you won't need to worry about repainting. Rust is a minor concern that is easily addressed through proper maintenance and the occasional touch-up if the protective finish is ever scratched off.
Environmentally friendly: Seamless steel siding is cut to the exact length that it needs to be from a big roll of siding. Because of this method, there is rarely any waste. Additionally, seamless steel siding can be recycled.
Appearance: Seamless steel siding offers a smooth, beautiful look and comes in many colors to match the roof, trim, gutters, windows, and doors. You'll have the opportunity to create the perfect look for your home, and the durability of steel siding ensures you'll maintain your curb appeal over the life of your home.
Why choose seamless siding from Home Solutions Midwest?
ABC Seamless steel siding is one of the best products in the industry, and we are the professionals with the experience to install it. We guarantee that you will be happy with the results of the siding and the customer service you receive. Our siding crews are fully trained to ensure that your siding is installed properly and that your house stays protected for many years.
Get a free siding installation estimate today!
If you're interested in upgrading to steel siding, Home Solutions Midwest offers expert siding replacement and installation services. During your on-site consultation, we'll evaluate your home and recommend a solution with a cost that fits your budget. We will explain all the features of our siding products and show you design samples. Contact us today to request a free estimate in Winona, Owatonna, Austin, Faribault, Farmington, Northfield, Albert Lea or the surrounding area.
Looking for a price? Get a no cost, no obligation free estimate.